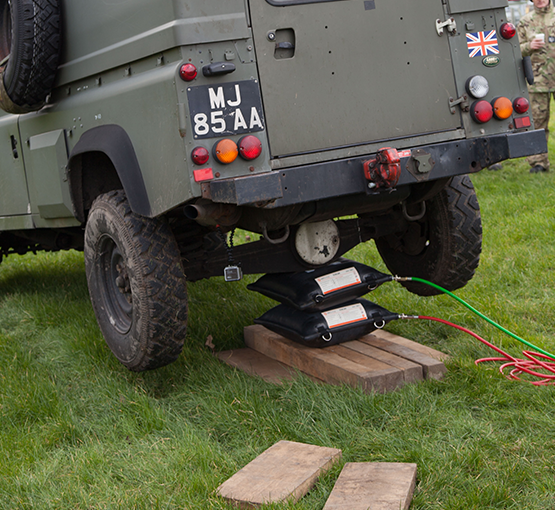 Stak Jak: Sometimes you just need a more stable way to lift..
The Stak Jak II is a revolutionary flat-profile lifting cushion for vehicle and heavy duty lifting requirements. The flat profile of the Stak Jak II has several distinct advantages over traditional ovoid lifting cushions of which the most significant is the ability to safely stack up to three cushions together. This enables a greater lift height without the risk of sudden ejection or instability that is possible when stacking ovoid mats.

In addition the Stak Jaks are not subject to the diminishing lift capacity experienced with ovoid mats. Complicated graphs and uncertain lifting heights and capacities do not need to be considered when using a Stak Jak; their lifting capacity remains constant throughout the lift, even at full height.

Stak Jaks are slim line for tight space scenarios and compact storage. They are constructed from exceptionally tough Kevlar cord, yet are light enough to be carried by just one person. Stak Jaks can be inflated quickly to provide an instant lift, making them ideal for use in rapid response emergency situations. They also have a controlled deflation facility if required, and can be supplied with an optional bleed valve on request.


Features:
Versatile - designed for emergency services but also used in industry, mining, railroads, armed forces, caravan and static unit companies. Situations involving vehicle crash, Structural collapse, and or Earthquake rescue.

Use for low profile industrial lifting, agricultural lifting, rock/cliff scaling and cargo dunnage.
Flat profile avoids diminishing lift
Supplied with Karabiner style retaining straps
Lightweight and compact
Controlled deflation facility
Significantly more stable than an ovoid mat
Cut Sheet (pdf)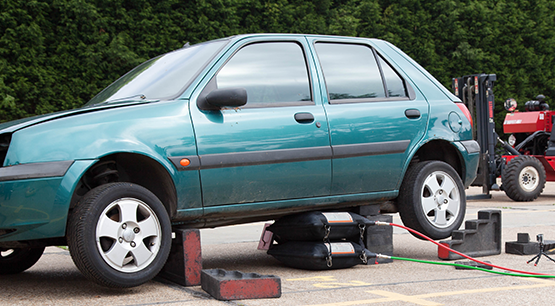 Demonstration Videos: The choice of which bag to use depends on the level of safety you need.